Welcome to my life... such as it is...
31st May, 2008. 7:19 pm. Seattle Day 3

I woke up, looked at the clock and groaned. "Hey" I called to Brendan, waking him up, sort of. "I thought you were setting the alarm on your phone." "I did." "Then why is it 9:45?"

So breakfast was a no-go, as it closed at 9:30. I had been looking forward to it too. Oh well. Got showered and dressed and ready to go, checking the nightstands to make sure nothing had been tossed in there and forgotten... to find condoms. Lots and lots of condoms. I was in disbelief at yet another amusing twist to the vacation.

We went down to check out.

Me: So, is a drawer full of condoms the Quality Inn's way of saying welcome?

Desk clerk: Pardon?

Me: The nightstand by the bed on the far right, the drawer is full of condoms. They aren't used or anything, just.. lots of condoms.

Clerk: Why didn't you tell us sooner?

Me: I found them this morning when we were packing up.

Clerk: Oh. I am sorry.

Me: Nothing really to be sorry about, I think its funny. But the next person who checks into the room may not be so amused. You probably want to make sure housekeeping takes care of that. The condoms, and the pop bottle that has been sitting on the floor in the corner since before we checked in hasn't given me a lot of faith.

Clerk: Absolutely we will take care of it.

Me: And the person in 243 is nuts.

So I told him what happened there, at which point his chin dropped to his chest and he shook his head.

"They have to go through the switchboard at that time of night to make a call."

He gave us $20 off. A nice gesture and not one I was expecting as it wasn't a big deal. We thanked him and headed to the car, driving down to Pike Place Market.

It was a zoo, which is expected on a Sunday. Picked up some cherry jam, beef jerky, and wandered around for quite awhile. The seafood is awesome, and I wish I could have gotten some. Lots of cool shops and such to check out. We then had lunch overlooking the ocean at the market - Brendan had fish and chips and I had a crab cake sandwich. Both were awesome and the perfect last meal for Seattle.

Back into the car, we drove past Safeco and Quest Field to Costco. Brendan had heard you could get mini-kegs of heineken for $12.. they are $36 here. Unfortunately they were out of stock. We got some books and and that was it, we were on our way out of Seattle.

BTW, I love having a GPS. Just saying.

We drove to the Seattle Outlet Mall, which isn't even in Seattle. It was actually on the Tulalip Indian Reserve, and had a lot of brand name stores. Dropped about $200 on clothes. We headed over to the super walmart, which is insane and huge. Brendan did get his beer keg, as well as an assortment of chips and candy for the road. The USA has such good candy. Got a giant bag of wild cherry M&M's to go with the 12-pack of cherry 7-Up. Noticing a theme here? Stuff is so cheap there too. Crazy.

I phoned my Mom to wish her a happy Mother's Day. I think I knew as soon as she picked up the phone from the tone of her voice, and she confirmed my worst fears, that Janice had passed away two hours earlier, at 6:34pm. I had tears streaming down my face in the store, but I didn't care. I somehow made it out to the car, where I just completely lost it. I somehow got my composure, but I am very glad that Brendan was the one driving. It was a long drive back to Vancouver, as I was lost in my thoughts and pain. We stopped at Jacknthebox for burgers, as I had wanted to eat something I couldn't get back in Canada. Food was decent. We had checked the road reports, and the Peace Arch crossing was backed up, so we went through Aldergrove, which went smooth as silk and were back on Canadian soil.

We spent the night at Russ', sleeping on the floor. Not the most comfortable arrangement, but at least we got to see him. Unfortunately since it was so late we didn't get to talk to him for long, as he had to work in the morning. So we all went to bed.
30th May, 2008. 1:24 am. Seattle Day 2, Part 2

We'd planned to eat and hit the show, but wanted to find the theatre first and see what was around there. The Paramount is in an area that looks like it is going through a lot of changes. We had a hard time finding a place to park that would still be open after the show, but finally found one within walking distance. The weird thing was, you had to stuff money into a hole to pay. Super odd.

Decided to pick up our tickets and such first and then grab something to eat. Glad we did as things worked in our favor. The first show got out as we were heading to the theatre. Got to the box office, gave my name, and they handed me my tickets. And that was it. Slight problem, as I was also supposed to recieve backstage passes for a meet and greet.

You know how when you really get excited for something, and then get told no, how frustrating that is? That was me. The box office said the manager couldn't do anything. So I went inside the theatre and talked to the front of house staff, who said that I would have to call the office that had originally set up the tickets and passes. It's 9:00 on a Saturday night, not helpful. I even had the e-mail open on the web browser of the cell as proof. They finally found someone, who made a call and told me to wait. Finally, her tour manager comes out and talks to me. I explained who I was, who had set up the passes and showed him the e-mail... and it worked. He took us backstage immediately. Woohoo!

We waited in a hallway by I guess the green room on the third floor of the theatre, as some giant drag queens chatted with Margaret. Then it was our turn, and there she was, Margaret Cho, all ours for the talking. She looked kind of tired and I knew she had another show soon, so we kept it brief, thanking her for meeting us, talking for a few minutes, and then heading on our way. It was really, really cool to get to meet her!

We left and headed to a nearby subway. In the US they had a deal where all footlongs were $5. So the chicken bacon ranch that is $10 here was half that. I miss the states already. We ate, and I tried to go to the washroom but a creepy homeless guy was in there, sitting fully clothed (thank god) with the door unlocked. Management kicked him out right away.

We were fifth row on the floor for the show. And damn was it funny. Liam Sullivan, aka Kelly, opened the show with some videos before doing a new live song written in Canada.. "What are you guys talking aboot?" and a live version of shoes. Shoes. Shoes. Then, right away he introduced Margaret Cho.

"I just got a g-shot, which is an injection of collagen into your g-spot" is how she started the show. Which pretty much tells you how the night progressed. I laughed so hard I cried, and my stomach hurt, and I just about peed when she compared trying to give head to someone soft to a bird trying to pull a worm out of the ground.. and demonstrated. It was awesome.

After the show we'd planned to go to a club, but it had a huge line so we went to the 7-11 and got some drinks and ice cream and headed back to the hotel. At 1:30 in the morning, the phone rang and Brendan answered.

"Hi" a woman said. "You're really tall."

"Yes. Yes I am" Brendan said, looking at me confused.

"And hot... room 243." click.

I tried to convince him to go down and knock on the door but he wouldn't. Half an hour later the phone rang, it was her again, asking if he was busy. When he said he was, she moaned into the phone, told him he was hot again, and hung up.

So with that, I fell asleep watching The Bodyguard, pretty much the only thing on TV.
24th May, 2008. 6:54 pm. Seattle Day 2, pt 1

The original plan was to spend one night in Seattle and drive back Saturday. Then we found out that Margaret Cho was coming, so the plan changed to driving back late Saturday. But I pulled some strings, which offered free tickets to her 10:00 show. So the plan changed to staying an extra night.

Which left us with a day to try and cram in as much as humanly possible. I woke up at 7:30 to shower and get ready and we were downstairs for the continental breakfast at 8:30. Cereal, fruit, bagels with cream cheese, and waffles were on the menu. Gotta love that offering from hotels, it gets you up and at em, and in theory at a decent hour since it closes at 9:30. After eating we drove down to the waterfront, and headed to the Seattle Aquarium, 241 with the Entertainment Book. I've been to the aquarium before, in 2003 with Wes and Colin. It hasn't changed a lot although they did expand and add a "window to the pacific northwest" exhibit which was a giant tank that was like what you would see in Puget Sound. That was kind of neat. Also, finally, after years of dissapointment I saw not one but two Giant Pacific Octopus. Eat that Vancouver Aquarium!!! I did express concern that the one tank did not have a lid, meaning the octopus could get out. "Well, it could, but it doesn't want too." Oh that's reassuring. Apparently it can't crawl on carpet so it can't get far if it does climb out, and they have routine patrols to make sure. Riiight.

Saw sharks, fish, more fish, touched tidal pool stuff, saw seals and sea otters. I was standing on the other side of the river otter tank from Brendan, and he was trying to take a picture over the glass, and the otters jumped out of the water and were sort of begging and pawing at the glass, it was adorable. It seems otters are very smart though, as we tried to recreate it with me waiting to take a picture and Brendan just dangling his hands over, but they weren't fooled, they already figured out he had nothing to offer. They are so playful and fun.

We then headed over to the Argosy Cruise to take a 1 hour cruise of the harbor (also 241. Travelling on coupons rulez!) I like taking boat rides, the ocean air whipping around you and they are usually quite informative. This was no exception as we were given explanations of the history of various piers and saw a lot of Seattle landmarks and a unique look at the downtown skyline. It was marina days so there were a lot of tugboats and fireboats on the marina which was cool to see.

After an eventful morning we headed to lunch. I had punched in the computer coupons near the hotel. Well, it wasn't really that close, but the Hawaiian BBQ we had was quite good. We made our way back to the hotel to drop off the car and walked over to the Experience Music Project.

Yawn.

Wes spoke highly of it, but he thinks having an iguana dropped on your head in Thailand while fireworks are going off is cooler than a king cobra, so what does he know? Fortunately it was another coupon situation, as if I had paid full price I would have felt ripped off. They had a Hendrix exhibit and a look at music in the Pacific Northwest which was kind of cool but that was about it. They had all these booths where you could jam or mix records, but it was busy so we never got to check them out. We also got into the Sci-Fi Museum which was a bit better and had some cool stuff, like Terminators and the animatronic Donatello from TMNT 3, but it was getting close to closing. I think part of my dislike of EMP was that I was getting tired from running around all day.

We headed up the Space Needle, which I also went to 5 years ago, but it was still really cool to see everything from up there. We should have gotten the 2 visits in 24 hours package but oh well. We wandered around up there taking pictures and then headed to the gift shop. I bought a frame, and discovered that as an Albertan I am not supposed to pay tax on goods in Washington. Woot! Now that I knew that I was damn sure going to take advantage of it.

We headed back to the hotel and I relaxed in the hot tub for a bit while Brendan took a nap, so we would be refreshed for our evening.
23rd May, 2008. 10:21 am. Vancouver/Seattle 1.

Went on a holiday with Brendan to Vancouver and Seattle recently. Things didn't start well as Brendan thought our flight out on the 8th was at 11:30. It was 11:00. We arrived at 10:50. Fortunately the flight was delayed, although the delay ended up being almost 2 hours. That ended up working out ok, as after a miserable flight (short people should not be allowed the emergency exit) we landed and I waited for the bags and Brendan ran frantically to the Avis car rental desk which was scheduled to close at 1:00am. It was 12:58. He made it.


(

Read more...Collapse

)
12th May, 2008. 9:51 am. Janice Ross

I've been struggling to put this into words, but I need to write it down

A Wal-mart is never a good place to hear bad news. But there I was, in Wal-mart on the Tulalip Indian Reservation in Washington State, calling my Mom to wish her a happy Mother's Day.

Janice Ross, a woman who is like a Mother to me, passed away at 6:34pm Mountain Time on Sunday, May 11th. She was surrounded by her family, which is the most important thing.

Not the news I wanted, but I had a feeling it would happen while I was away. There were some things I wanted to tell her and didn't get the chance to, which I regret. I should have taken the opportunity when I saw her on Wednesday, but I was so overwhelmed from seeing her so sick, and then a few minutes later they transferred her from the hospital to the hospice.

I made it out to the car and broke down. It was a long drive back to Vancouver, as I keep hearing her voice in my head and realizing I will never get to hear it again.

I loved her so much, and I feel kind of helpless being far away. I know she would want me to continue on with my plans for the last two days of my trip, and I am going too. There isn't anything I can do now. But I will be thinking about her a lot.

I still remember being in grade 2 and this woman coming and picking us up from the babysitters. She was a friend of my Mom's from work. Mom and Dad both had to work late or something so we were going to Janices. For the first time I met Dave and Sarah. Who could have imagined 22 years later that these people would end up being a second family to me?

Janice and Val have helped raise me, Dave and Sarah are like siblings.

When I lost my Dad 5 years ago, I hoped no one I know would have to go through what we did.

She is one of the most positive people I have ever known, and even in this situation remained upbeat and positive to her last breath.

I am not sure what to ask for, other then positive energy, or prayers or whatever you can offer. Not only for her, but for Val, David, Christine, Sarah, Jeff, Claire, Tyson and Liam, he family who love her very much.

That is about all I can write right now. At some point I will get my thoughts together.

Current mood:
sad.
21st March, 2008. 11:46 am. Bearded Dragon fetus

One of our eggs went bad. Discovered it yesterday when checking on them, it had leaked out. Unfortunate, but with 27 eggs not all of them will work out.

While it is sad, it also provided a unique opportunity to see what goes on inside the egg. This isn't for everyone so the pictures are behind the cut, but it is pretty neat.


(

Read more...Collapse

)
11th March, 2008. 5:40 pm. Edmonton Trip

I've decided I need to go to Edmonton more. I have friends, family, and its really a short getaway.

So last weekend, March 1/2, Brendan and I decided to head up to Edmonton to see some friends and so I could go to the PWA show at NAIT. Main reason? - having spent an hour on the phone with the former "Sunny" of the WWE, I wanted to meet her. But we had to wait for our new washer and dryer to be delivered first.

It finally arrived around 1, so by 2:30ish we were on our way out of town. Things seemed to be going smoothly, although Brendan was a little concerned about his engine seeming to get hot. We stopped in Red Deer and he topped up his coolant... and 20 minutes outside of red deer the engine overheated again, and when we looked under the hood, steam was rising and the coolant was empty again.

Fuck.

Brendan refilled the coolant, but we both knew we had to go back. My dreams of a fun weekend away dashed, we headed back into Red Deer to get more coolant so that we could keep refilling until we got back to Calgary and could get to a garage on Monday. However, our timing was good enough that the shop at Canadian Tire was still open and the technician agreed to take a look. And since it can never be the simple fix, sure enough the water pump was toast and needed to be repaired. But the good news is, still going to Edmonton!

We went to an irish pub to kill time. Ended up having a really good shepard's pie. We played NTN until 7:30 when the phone rang and the car was ready to go. $450 later we were back on our way, arriving at Bryce and Rob's at 9:45.

We went to a local bar for a bit and then went to Denny's. It was there that I fate provided me with one of those rare moments where everything aligns perfectly for a moment of hilarity.

"It sucks because of course it had to be the water pump," I said, speaking of our ordeal in trying to get to Edmonton. "I was hoping it was a loose hose or something quick to fix." At that exact moment, another Denny's customer who was dressed for a night out in a rather revealing outfit walked by. "Speaking of loose ho's" I quipped.

Rob turned read from laughter, Bryce choked on his drink and Brendan couldn't stop laughing.

Finally got to bed around 3, woke up and watched the movie Accepted which was pretty funny. We had breakfast and I broke a tooth on a piece of toast. Again, crappyness on the weekend but I was determined to make the most of it. After playing Rock Band for a couple of hours and becoming an instant addict, (except I can't seem to coordinate my foot and hands on drums) we headed to NAIT.

The show was good. A bit long, but good. Sunny took a moment to remember me. I got her to sign a picture of us together in 1997, she said we both looked so young. She still looks amazing. Christopher Daniels was there as well, and I got a picture signed that I took when I shot ringside for Ring of Honor last year. He recognized me. I guess I stand out, lol.

After the show and a quick bite to eat at Tim Hortons, it was on the road again. Got home about Midnight and went to bed.

It is good to get away. Now that I have a tent and air mattress I am hoping to camp some more this summer, and am going to Vancouver in May. Woohoo!
20th February, 2008. 10:57 am. Dragon Eggs.....

After being initially told the adult bearded dragon I got second hand in March of 06 was male, last year I discovered he was in fact a she. I've kept the name Roscoe because it just suits her and is the name I am used to. I put her and Otis together as an experiment in November, but he was far to aggressive and so I seperated them on Boxing Day.

Dragons however, retain sperm. And evidently Roscoe did, as on February 11th I noticed egg bumps in her stomach.

She went off food on the 16th and on the 17th laid 27 beautiful little eggs. I got to watch her do it, and it was pretty amazing. Sure it's not quite the same as live birth, but it is still pretty incredible to watch all of these come out of her!

They are sitting in an incubator now in the basement, and hopefully things work out smoothly.

I'll be selling the babies - about half to a reptile store, right out of the incubator, and half will keep and raise 6 - 8 weeks until they are big enough to be sold.

Parting with them will be really, really hard. But the experience is going to be worth it.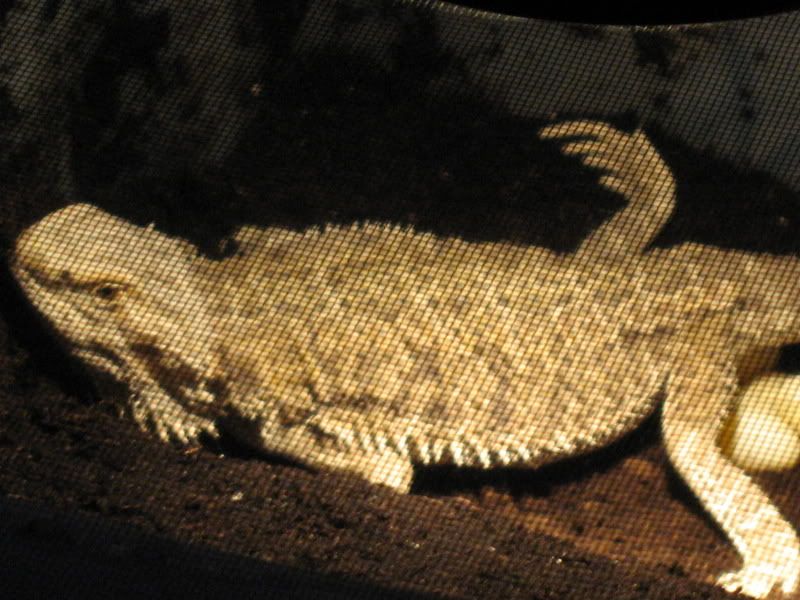 Mom Laying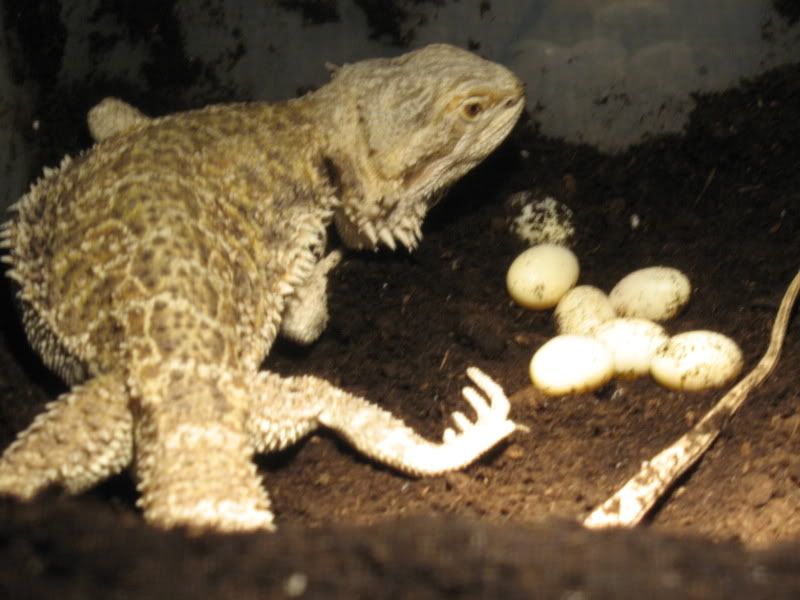 Mom burying eggs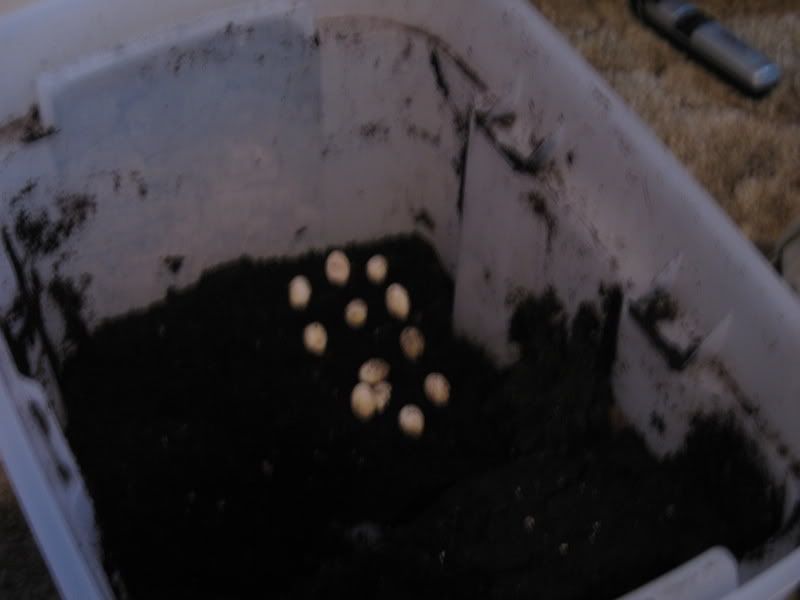 Digging out the eggs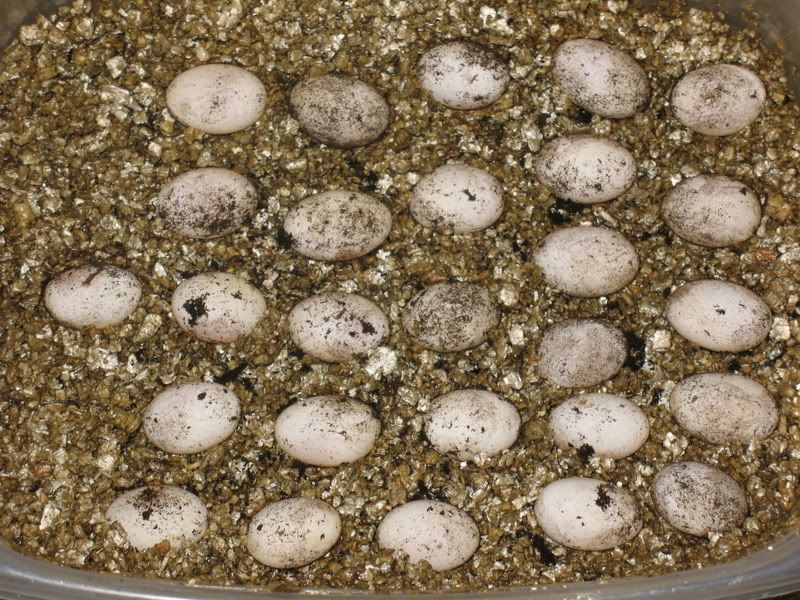 The eggs in vermiculite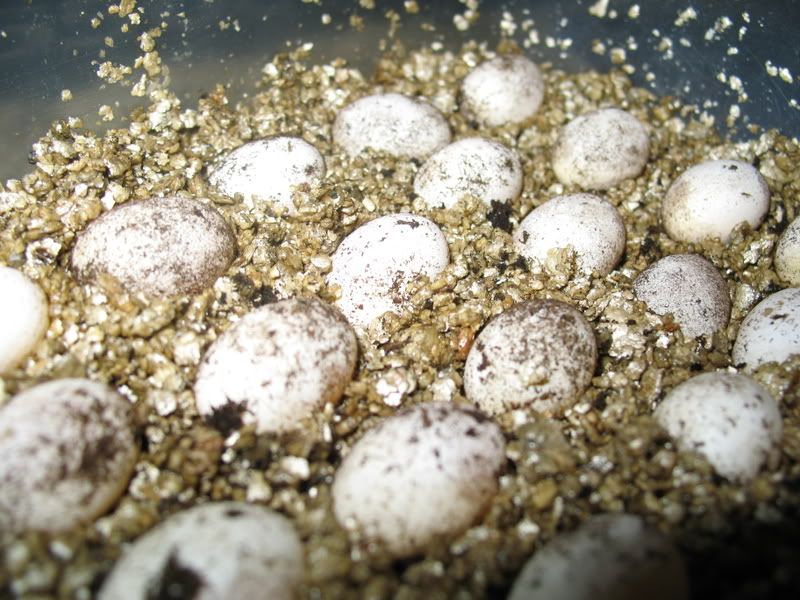 More eggs

Current mood:
excited.
12th February, 2008. 8:38 am. Sooo busy

Has it really been over a month since I updated this thing? Jesus time is flying.

Well for the one of you who is probably left and still reads this thing (Hi Deb!) its been a crazy busy month.

I'll try and find some more time to go into detail, but January saw a trip to Banff, several plays, 2 concerts, and just seemingly non-stop crazyness.

Last week was nice however, as I actually had nothing to do in the evenings! Came home, relaxed, watched TV and movies and just enjoyed being home.

That's done however. Tonight I am going with Brandie for Sushi and to see Riverdance. Tomorrow, Friday and Saturday I have opening night of three ATP playRites shows, and next week is Little Shop of Horrors at Stage West.

So much to do, so little time.
6th January, 2008. 12:33 pm. Ranking concerts of 2007

Ranking the Concerts for 2007

2007 was a record setting year for me in terms of concerts, having seen 21 shows this year and achieving the milestone of 100 concerts in my lifetime. This number also came after missing some shows I was planning on going to – the first Blue October show (conflicted with seeing and meeting Lily Tomlin), Josh Groban, Christina Aguillera, a 2nd Jann Arden show, the Stampede Finger 11 show, and Def Leppard. As well, with the number of bands that decided to pick Edmonton over Calgary (Justin Timberlake, Velvet Revolver) that decision was also made for me.

Already 2008 has 4 concerts on the agenda – Gob January 18th (concert number 110), Three Days Grace/Seether/Econoline Crush January 29th, Thrice in February and in the distant future, Celine Dion in Edmonton.

So without further adieu, ranking the concerts of 2007.


(

Read more...Collapse

)
Back A Page